Suspension Magnet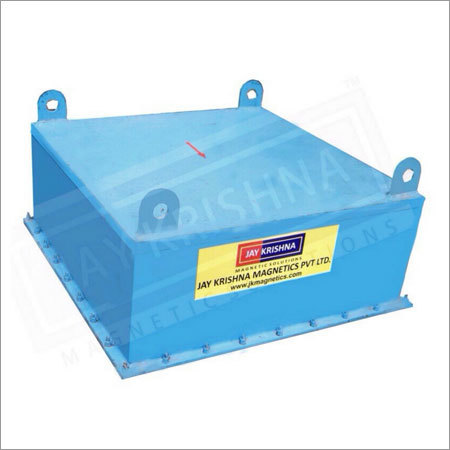 Suspension Magnet
Being a renowned organization of market, we are engaged in offering an all-encompassing range of Suspension Magnet that is most useful for products carried by the Belt Conveyors. Precisely engineered, this magnet is specifically designed for the extraction of occasional tramp iron from a product stream being conveyed by a conveyor belt or vibratory feeder. In order to maintain the quality and avoid any flaw, this magnet is strictly checked on various quality parameters. Our patrons can buy this Suspension Magnet according to their choice and demands in various specifications.
Jaykrishna Suspension Type Magnets Are Most Useful For Products Carried By The Belt Conveyors.
Use Of Suspension Type Magnets Is Recommended For Products With Low Contamination. However If The Frequency Of The Impurities Is Too High, These Will Make A Layer Shunting Magnetic Field. The Equipment Will Require Frequent Cleaning. For Such Applications Over Band Type Magnetic Separator Is Recommanded.
The Main Applications Are For The Processing Of Bulk Products Such As Sugar, Coal, Minerals, Cereals, Coffee, Glass, Culets Etc.
Installation :

Jmpl Magnets Can Be Installed Either At The End Of The Belt Above The Head Drum
(Fig 1), Or Across The Conveyor Belt ( Fig. 2 ).
In Both Cases, To Avoid Disturbances To The Magnetic Field, A Magnetic Parts Must Be Planced Below The Surface Of The Magnet.
The Installation Shown On Figure 1 Is Preferable For High Speeds. Separation Is More Efficient Due To The Trajectory Of The Fact That It Is Then "Fluidised".
As a prestigious organization, we are involved in providing wide spectrum of Suspension Magnet which is used as an essential part of belt conveyor. This ergonomically developed magnet is required for removal of loose iron particles from the flow of materials transferred via vibratory feeder or conveyor belt. The provided magnet has gone through various quality checking procedures to prove its flawless nature. Customers can purchase this Suspension Magnet as per their needs in different configurations.
The suspension type magnet offered by Jaykrishna is useful for conveyed products transferred by belt conveyor.
Generally, products with minimal contamination level are suggested for this type of magnet. In case of high contamination level, this magnet tends to form a layer of shunting magnetic arena. This type of magnet needs to be cleaned by using over band type magnetic separator on regular basis.
The provided magnet is required for processing of bulk amount of cereals, sugar, coffee, culets, minerals and coal to name a few.
Installation :
The suspension type magnet can be fitted wither above the head part of drum or at the end of the conveyor belt.

We recommend installing a magnetic component below the magnet surface to avert any complications.