Magnetic Coolant Separator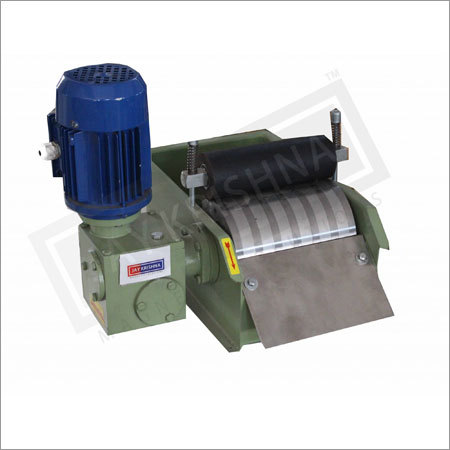 Magnetic Coolant Separator
With heard-earned industrial experience and specialized technical knowledge, we are involved in providing Magnetic Coolant Separator that can removes up to 99% of magnetic material. This separator is used to purify the coolant liquid of very fine ferrous particles. Moreover, in this range, the magnets enclosed in stainless steel drum having powerful an - isotropic ferrite magnets with uniform magnetics field all along the circumference. This Magnetic Coolant Separator is made available to our clients at unimaginable competent industry prices.

Features :
A Sturdy Welded M.S. Frame.

The Magnets Enclosed In Stainless Steel Drum Having Powerful An - Isotropic Ferrite Magnets With Uniform Magnetics Field All Along The Circumference.

A Neoprene Rubber Roller With Covered Bearings.

A Stainless Steel Blade With Adjustments For Efficient Scrapping Of The Sludge.

An Elec.Motor Working 440 V With Reduction Gear Revolving The Drum At About 4 Rpm.
We Are Manufacturing Coolant Separators In Standard Capacity Of 50, 100, 150, & 200 Liters/Min. However Custom Made Coolant.
With having in depth technical knowledge on relevant arena, we have emerged as a successful organization engaged in offering Magnetic Coolant Separator. This separator is required for through removal of maximum amount of magnetic materials like subtle particles of ferrous metal present in coolant fluid for effective filtration purpose. This separator consists of a powerful anisotropic ferrite magnet located inside its stainless steel fabricated drum. As part of its mechanism, contaminated iron particle enriched coolant fluid flows towards the inlet of this separator via gravity from machinery like milling equipment, grinder and automatic equipment to name a few. All the iron particles of this coolant fluid is separated as soon as it is exposed to magnetic drum. The rubber roller of this separator extracts the deposited sludge material to prevent wastage of coolant fluid. We are offering this Magnetic Coolant Separator at affordable price range to our esteemed customers. We are offering this product in 100, 50, 200 and 150 liters per minute standard capacity options. Customers can also obtain it in tailor made specifications.
Features:
Equipped with durable quality mild steel frame

Its stainless steel fabricated drum comprises of highly effective anisotropic ferrite magnet that has even magnetic field surrounding its circumference.

Featured with neoprene made roller with enclosed bearings

Stainless steel made blade with adjustable sludge scrapping function

Equipped with electricity operated 440 v motor that has reduction gear

This reduction gear is continuously moving around the drum around 4 rpm of speed.